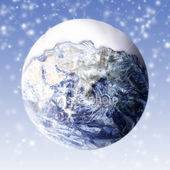 The lingering cool temperatures being experienced by much of North America has weather forecasters wondering if we are entering a new Little Ice Age - a reference to the prolonged period of cold weather that afflicted the world for centuries and didn't end until just prior to the American Civil War. From historical records, scientists have found a strong correlation between low sunspot activity and a cooling climate. At the end of May, an international panel of experts led by NOAA and sponsored by NASA released a new prediction for the next solar cycle: Solar Cycle 24 will be one of the weakest in recent memory.
Are we about to start a new Little Ice Age?
According to the
report
, Solar Cycle 24 will peak in May 2013 with a sunspot count well below average. "If our prediction is correct, Solar Cycle 24 will have a peak sunspot number of 90, the lowest of any cycle since 1928 when Solar Cycle 16 peaked at 78," says panel chairman Doug Biesecker of the NOAA Space Weather Prediction Center. This does not mean that we won't feel the results of renewed solar storm activity here on Earth.