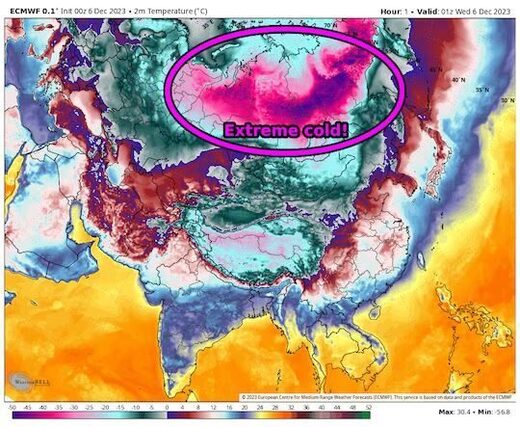 As the icebox of the Northern Hemisphere, Russia's Siberia is notorious for its frigid weather. But the cold so far this December —
the most severe in decades in some areas
— is extreme even by its own bone-chilling standards.
Temperatures around minus-58 degrees (minus-50 Celsius) and even lower have spread over northeastern Siberia in recent days and will persist for several more.
The mercury has dipped as low as minus-73.7 degrees (minus-58.7 Celsius) thus far
.
Most of Russia is predicted to endure temperatures much below average through the next week. The coldest conditions relative to normal will tend to drift toward the central and western parts of the country with
daily temperature some 20 to 40 degrees below average
.
The punishing chill in Siberia is a massive departure from abnormally warm weather prevailing over much of the rest of the planet. The European Union's Copernicus Climate Service
announced Wednesday
that last month was the warmest November ever observed by a wide margin and the sixth month in a row to set a record high. This year is a virtual lock to be the planet's warmest on record.

Comment: That's according to 'satellite data', which is 'cooked' to produce 'the right results'. The actual, lived November for most Europeans was a cold and wet one.


Climate scientists still expect bouts of extreme cold in a warming world, but they are projected to become less frequent and intense, while covering smaller areas, over time.