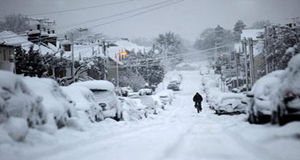 London - Renowned climate scientist predicts a new ice age is on the way!
Scientists, climatologists and the mayor of London are all in agreement - the cold snap in Europe is going to get worse, much worse. A new ice age is underway.
According to Piers Corbyn, a British scientist who gets the climate right about 85 per cent of the time, were absolutely entering a new ice age. Serious business people - notably in farming - are starting to invest in his forecasts.
Corbyn, an astrophysicist, gets it right again and again.
In November, Corbyn said it would be the coldest for 100 years. He was correct. He predicted a snowy December for Europe, and he put his own money on a white Christmas for most of the U.S. - something that no one, not even AccuWeather had predicted.
How does he do it?
He looks at the flow of particles from the Sun, and how they interact with the upper atmosphere, especially air currents such as the jet stream, and he looks at how the Moon and other factors influence those streaming particles.