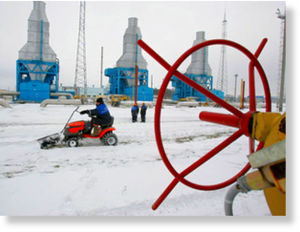 Cold weather in Europe has caused this season's record-high spot prices for gas, crossing the $400 mark. But even this does not make stable but higher long-term contract prices more attractive to European customers.
Over the weekend extreme weather has swept across Europe from the UK to Spain, claiming lives and causing flight cancelations and power outages. The freezing temperatures have forced Europe to consume more gas prompting the spot price to reach $406 per 1000 cubic meter. Gas at Britain's National Balancing Point traded at $398.7 last week which was 8.5% higher than in first week of January.
However, Russia's Gazprom, which in 2011 provided 32% of total gas supplies to Europe, will not benefit much from the rise. Only 20% of Gazprom's gas exports to the EU were spot deals, Sergey Vakhrameev, analyst at Metropol told Vedomosti daily. Long-term contracts make up the majority of Gazprom deliveries, while spot supplies are only 7% of total exports, Vakhrameev added.