British Beekeepers Association attributes worst losses since survey began to washout summer leading to long winter, exacerbated by late spring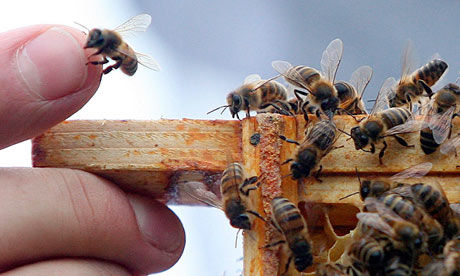 More than a third of all honeybee colonies in England died over the winter, according to figures from the British Beekeepers Association, the worst losses since its winter survival survey began.
On average, 33.8 colonies in every 100 perished over the long winter of 2012-13 compared with 16.2% the previous winter. In the south-west of England, more than half of all colonies were wiped out and in the northern part of the country 46.4% didn't survive.
In Scotland and Wales, honeybees fared no better. The Scottish beekeepers association, which has yet to complete its annual survey, predicts losses of
up to 50%
. And bee farmers in Wales have reported
38% losses
.
The BBKA attributed the alarming high bee mortality to the poor weather during 2012 continuing into 2013 and exacerbated by the late arrival of spring.
"The wet summer prevented honey
bees
from foraging for food, resulting in poorly developed colonies going into winter. When they could get out there was a scarcity of pollen and nectar. Honeybee colonies which are in a poor nutritional state become more vulnerable to disease and other stress factors," said a BBKA spokeswoman.
Many beekeepers also reported incidence of "isolation starvation", when the cluster of bees in the hive becomes too cold to move close enough to eat their food stores in another part of the hive, and so starve.