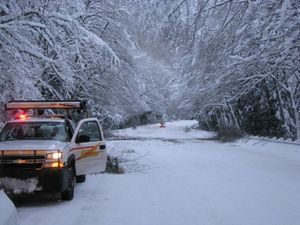 America could actually use some global warming right about now. It is being projected that low temperatures across the Midwest could be
30 to 50 degrees below average 
on Monday morning. On Sunday, fans that attempted to tailgate before the playoff game between the 49ers and the Packers at Lambeau Field in Green Bay, Wisconsin were discovering that their
beers were actually turning to ice
before they could drink them. That is cold. But things are going to get really chilly when nightfall arrives. In fact, it is being projected that much of the nation will experience wind chill temperatures of
more than 40 degrees below zero
, and wind chill temperatures of more than 50 degrees below zero are expected in parts of North Dakota and Minnesota.
The weather is expected to be so cold that the governor of Minnesota has actually decided
to close public schools statewide
on Monday. The last time that happened was back in 1997. The reason why the governor of Minnesota did this is because when temperatures get this low they can literally be life threatening. When wind chill temperatures get down to about 50 below zero, if your skin is exposed you can literally develop frostbite in about five minutes. This is being called the coldest day in America in 20 years, and these cold temperatures have many Americans wondering what ever happened to all of that "global warming" that Al Gore and other "climate scientists" have been warning us about for so many years.
If the planet really is getting significantly warmer, our winters should not be like this. Back in the year 2000, one prominent "climate scientist" boldly declared that future generations of children "
just aren't going to know what snow is.
"
Oh really?