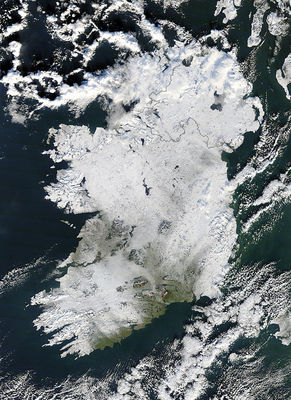 The Mid-Atlantic and northeastern U.S. were not the only areas dealing with holiday snowfall.
Ireland [usually] enjoys a "temperate ocean climate" (Cfb) based on the Koopen climate classification system. Such climates normally enjoy cool, cloud-covered summers and mild winters. Ireland's climate is also [usually] moderated by the warm waters of the Gulf Stream, which flows off the western shore. Snow commonly falls only in the highest elevations; dustings may occur elsewhere a few times each year. Significant accumulations anywhere in the country are rare.
The winter of 2009-2010 was unusually cold and snowy. Called "The Big Freeze" by the British media, it brought widespread transportation problems, school closings, power failures and twenty five deaths. A low of -22.3°C (-8.1°F) was recorded on January 8, 2010, making it the coldest winter since 1978/79.