Italy shivers through 'cursed spring' of relentless rain

June normally heralds the arrival of summer heat, but 2013's capricious weather is fuelling new meteorological obsession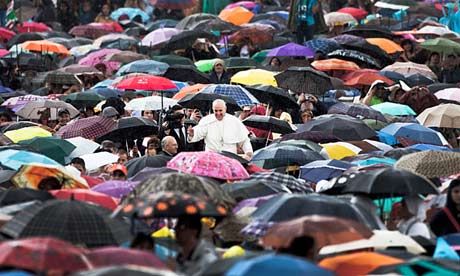 As the breeze swept in under the cafe's parasols and the sky darkened over Rome, waiter Apu Haq exchanged commiserations with a customer nursing an espresso and a scowl. "They said summer was going to arrive this week," remarked Haq, "and instead came winter." Within minutes, torrential rain was lashing the cobblestones as thunder rumbled in the distance. "It's all the wrong way round," said a bewildered Haq, from Bangladesh. "It's incredible. I've been here for 10 years now and I've never seen anything like it. It's too strange."
Italian springs are often strange, but this one will perhaps be remembered as particularly capricious. As with much of northern Europe, the country has shivered its way through a good deal of the year. In the north-west, according to the Italian meteorological society, residents have had the coldest May since 1991.
In much of the north-east, the spring has been the wettest for at least 150 years. A mountain stage of the Giro d'Italia bike race was called off due to snow and ice. Beach resorts in Tuscany have been flooded. Many farmers have suffered huge damage to their crops.
Now, as June arrives, it should technically be summer. But it certainly doesn't feel like it. "Last year, by this point, we were going to the sea. At the beginning of June we went down to the Fori Imperiali and sunbathed," said Mario Ramelli, a street-corner florist in central Rome. This spring's brutto tempo has been a topic of conversation with many of his customers - that is, those who stop to buy a pot of pansies or, optimistically, some sunflowers. "When it's horrid and wet, people hurry by," said Ramelli. "It's not good for work."