The National Guard has helped evacuate residents from a small community in Alaska's interior where a river ice jam caused major flooding, washing out roads and submerging homes and other buildings. State officials estimate several hundred people have left the town of Galena, which remained mostly underwater Tuesday with the Yukon River ice jam firmly in place, the
Fairbanks Daily News-Miner
reported.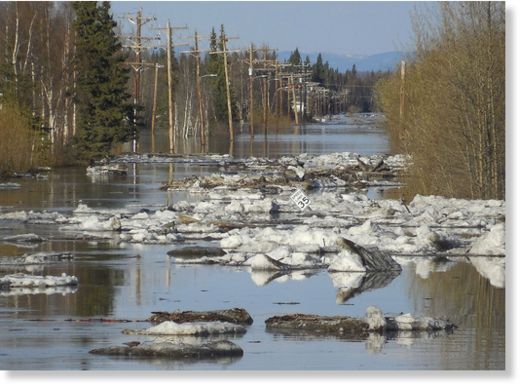 National Weather Service meteorologist Christopher Cox said 90 percent of the community's roads were flooded, and many buildings had 7 feet of water in them. Some of the people who were displaced said they escaped in rafts battered by ice chunks and floating debris.
After rising floodwaters breached a wall protecting the Galena airport, the National Guard flew in to evacuate any remaining residents who wanted to leave the community of nearly 500, the
Anchorage Daily News
reported.
Evacuee Shane Edwin stepped off a flight to Fairbanks on Tuesday afternoon and described the scene he left behind as "a whole bunch of chaos." "The roads are all gone," he said. "The houses are flipped over. It's just trashed. I couldn't grab anything, not even my ID. The water came so fast."
Additional images