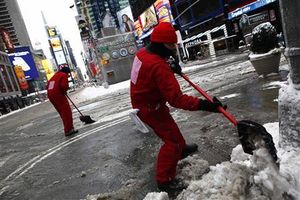 The U.S. Northeast started digging itself out on Sunday after a blizzard dumped up to 40 inches (1 meter) of snow with hurricane force winds, killing at least nine people and leaving hundreds of thousands without power.
New York City trucks plowed through residential streets, leaving hundreds, if not thousands, of motorists to dig their buried vehicles out from mountains of snow.
"I give up," Giovanni Marchenna, 52, of Manhattan said with a laugh.
"Looks like I'll be taking the subway to work until the snow melts," he added, noting he spent more than an hour shoveling snow.
Utility companies reported that some 350,000 customers were still without electricity across nine states after the wet, heavy snow brought down tree branches and power lines. About 700,000 homes and businesses were without power at one point on Saturday.
Air traffic began to return to normal on Sunday after some 5,800 flights were canceled on Friday and Saturday, according to Flightaware, a flight tracking service.
Bradley International Airport in Windsor Locks, Connecticut, and New York state's Long Island MacArthur Airport reopened on Sunday morning. Both had been closed on Saturday.