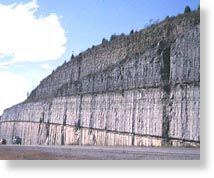 Researchers here have discovered the pivotal role that volcanoes played in a deadly ice age 450 million years ago. Perhaps ironically, these volcanoes first caused global warming - by releasing massive amounts of carbon dioxide into the atmosphere. When they stopped erupting, Earth's climate was thrown off balance, and the ice age began.
The discovery underscores the importance of carbon in Earth's climate today, said Matthew Saltzman, associate professor of earth sciences at Ohio State University.
The results will appear in the journal
Geology
, in a paper now available online.
Previously, Saltzman and his team linked this same ice age to the rise of the Appalachian Mountains. As the exposed rock weathered, chemical reactions pulled carbon from Earth's atmosphere, causing a global cooling which ultimately killed two-thirds of all species on the planet.