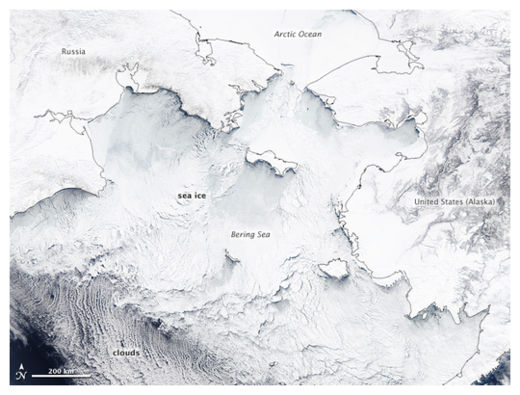 For most of the winter of 2011 - 2012, the Bering Sea has been choking with sea ice. Though ice obviously forms there every year, the cover has been unusually extensive this season. In fact, the past several months have included the second highest ice extent in the satellite record for the Bering Sea region, according to the National Snow and Ice Data Center (NSIDC).
The natural-color image above shows the Bering Sea and the coasts of Alaska and northeastern Siberia on March 19, 2012. The image was acquired by the
Moderate Resolution Imaging Spectroradiometer
(MODIS) on NASA's
Aqua
satellite. Black lines mark the coastlines, many of which have ice shelves or frozen bays extending beyond the land borders.
NSIDC data indicate that ice extent in the Bering Sea for most of this winter has been between
20 to 30 percent above the 1979 to 2000 average. February 2012 had the highest ice extent for the area since satellite records started.
As of March 16, National Weather Service forecasters noted that all of the ice cover in the Bering Sea was first year ice, much of it new and thin - which is typical in the Bering Sea
The accumulation of ice this season has largely been fueled by persistent northerly winds blowing from the Arctic Ocean across the Bering Strait. The local winter weather has been dominated by low-pressure systems - with their counterclockwise circulation - that have brought extensive moisture up from the south to coastal and interior Alaska, while sending cold winds down across the sea to the west.