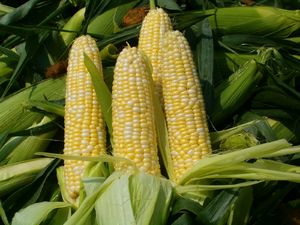 Unusually cold weather in Michigan these days. Smack dab in the middle of July, we are having to close the windows because it's too cold outside. I still haven't run the ac yet this year. These weather patterns have other consequences. Just a couple of weeks ago, I reported that the Northern Michigan Cherry Festival was without northern Michigan cherries! (
I blame Global Warming! Northern Michigan Cherry festival to be without Northern Michigan cherries. Not ripe yet because of cold!
)
I kid you not! They had to import cherries from elsewhere!
And before that, the strawberry crop had been delayed (
I blame global warming! Cool weather delays Michigan strawberry season
). Is no crop safe from global warming? Er, I mean - climate change? Not corn or tomatoes apparently! From The Detroit Free Press:
Ahh, summer. And we're chillin
'?