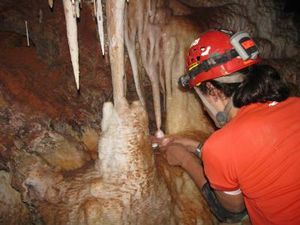 Ice Age climate records from an Arizona stalagmite link the Southwest's winter precipitation to temperatures in the North Atlantic, according to new research.
The finding is the first to document that the abrupt changes in Ice Age climate known from Greenland also occurred in the southwestern U.S., said co-author Julia E. Cole of the University of Arizona in Tucson.
"It's a new picture of the climate in the Southwest during the last Ice Age," said Cole, a UA professor of geosciences. "When it was cold in Greenland, it was wet here, and when it was warm in Greenland, it was dry here."