Extreme Temperatures
---
MSNBC
Fri, 03 Feb 2012 13:45 UTC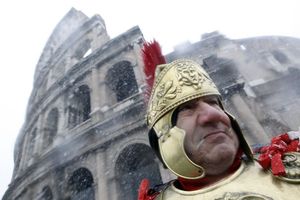 Russia and Ukraine took extra precautions on Friday to protect homeless people during a brutal cold snap, ordering new facilities and medical care after scores of people have frozen to death on the streets of Europe.
As the death toll from the past week rose to at least 175 on Friday, Russian Emergencies Minister Sergei Shoigu ordered the creation of facilities nationwide to feed and provide medical assistance to the homeless.
The week-long freeze - Eastern Europe's worst in decades - is causing power outages, frozen water pipes and widespread closure of schools, nurseries, airports and bus routes.
Other parts of Europe experienced frigid temperatures unseen in years. A roundup:
---
On Friday, thick snowflakes fell in Rome on Friday, a rare occurrence for a capital usually blessed by a temperate climate, and other parts of the country experienced frigid temperatures unseen in years. The snowfall prompted authorities to stop visitors from entering the Colosseum, the Roman Forum and the Palatine Hill, the former home of Rome's ancient emperors.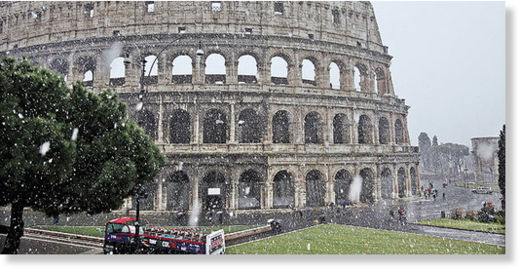 The director of the Colosseum, Rossella Rea, said the sites were closed out of fears that visitors could slip on ice. The last substantial snowfalls in Rome were in 1985 and 1986, though there have been other cases of lighter snow since then, including in 2010. Snow began falling in the late morning on Friday, leaving a light dusting on trees and cars and forming slush on the roads. It wasn't clear if there would be any significant accumulation on the ground. The north of the country has also been gripped by snow and ice that is disrupting train travel.
---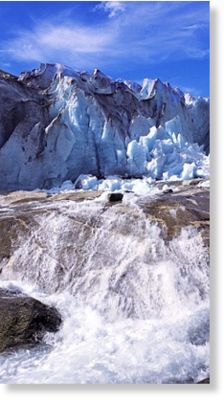 The idea that slight shifts in Earth's axis might have been enough to trigger the ice ages is a century old.
But a Harvard earth sciences Professor Peter Huybers has finally proved it, using computer models to test competing ideas - and finding that earth's tilting axis is the only one that works.
The finding could have profound implications for our understanding of our planet's climate - and could, its author says, be crucial to 'predicting long-term changes in future climate.'
Two 'cycles' in the way Earth's axis spins have an effect on the cycle - one lasting 10,000 years and one lasting roughly 40,000 years.
When they align correctly, ice melts. At the other extreme, glaciers advance.
---
Pravda
Wed, 01 Feb 2012 22:29 UTC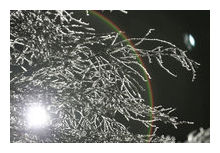 Winter temperatures in Russia have gone extreme. The air in some regions of the republic of Yakutia (Siberia) has cooled down to -50 degrees Centigrade. Anomalous cold of -40 degrees is expected in the Perm region of Russia, Vesti.Ru reports.
In the European part of Russia, the current temperatures are ten degrees below the norm. On Wednesday morning, the temperature in the Moscow region dropped to 26 and even 30 degrees below zero Centigrade.
Cold weather is expected to become even colder this week in Moscow and the region, RIA Novosti reports. Winter cold has already claimed several human lives. One person died of frostbite yesterday in Moscow. Ten others asked for medical help and were hospitalized.
Ukraine suffers from extreme cold as well. According to Ukrainian news agencies, the cold has killed 30 people during the last three days. More than 600 people asked for medical help, 544 of them were hospitalized.
Russia's Chief Sanitary Doctor Gennady Onishchenko believes that there is a positive side to such severe winter cold. Low temperatures prevent the epidemic of flu, the official said.
---
CNN
Thu, 02 Feb 2012 13:39 UTC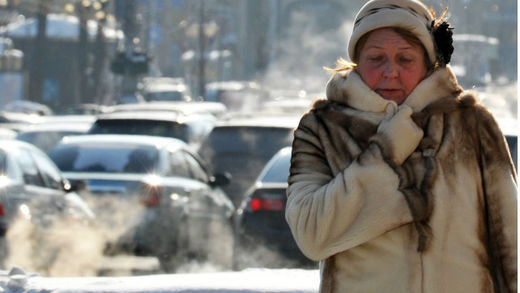 Sub-zero temperatures continued to keep eastern Europe in their grip Wednesday, leading to the deaths of 31 people in Ukraine so far, emergency officials there said.
For several days, unusually cold weather and snow have slammed Eastern Europe, as well as other parts of Europe and central and western Turkey.
CNN meteorologist Brandon Miller said the heart of the cold air was still centered over Eastern Europe Wednesday, including Russia, Romania, Belarus and Poland as well as Ukraine, with temperatures generally a couple of degrees lower Wednesday than the day before.
The Romanian capital, Bucharest, saw a low of -23 degrees Celsius (-9.4 degrees Fahrenheit) early Wednesday, compared with an average low of -4 degrees Celsius (25 degrees Fahrenheit) at this time of year.
---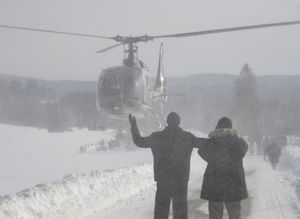 Days of heavy snow has made travel difficult on a number of main roads in Serbia, while a state of emergency has been declared in several areas.
The western town of Prijepolje declared a state of emergency this week, while nearby Nova Varos has been in a state of emergency since January 11. More than 60,000 citizens from Loznica, Ljubovija and Valjevo were without electricity on Thursday.
The Serbia power company EPS said power outages have been periodically occuring in the area around Kraljevo and Nis.
The south of the country has been hit hardest by the severe winter weather.
---
A cold snap kept Europe in its icy grip on Thursday, pushing the death toll to 160 as countries from Italy to Ukraine struggled to cope with temperatures that plunged to record lows in some places.
Nine more people died in Poland overnight as temperatures hit minus 32 Celsius (minus 25.6 Fahrenheit) in the southwest, bringing the overall toll to 29 since the deep freeze began last week, national police said.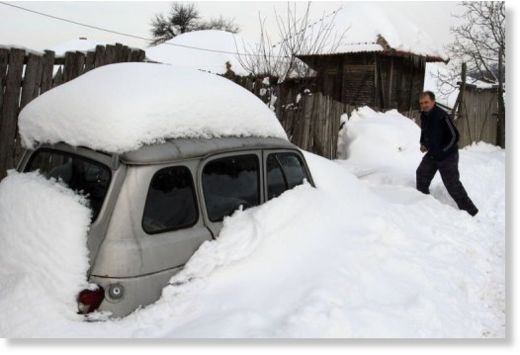 In Ukraine, tens of thousands of people have headed to shelters trying to escape the freeze that the emergencies ministry said has now killed 63 people.
Most of them literally froze to death on the street, with only a handful making it to hospital before succumbing to hypothermia, the ministry said.
Shivering and hungry, tens of thousands of Ukrainians have sought help in the more than 2,000 temporary shelters set up by the authorities to help the poor survive the fearsome spell of cold weather.
The shelters offer warmth and hot food in a country where temperatures fell to minus 33 degrees Celsius in the Carpathians in the west of the country and minus 27 in the capital Kiev.
---
Belgrade, Serbia - Rescue helicopters evacuated dozens of people from snow-blocked villages in Serbia and Bosnia and air-lifted in emergency food and medicine as a severe cold spell kept Eastern Europe in its icy grip.
The death toll from the cold rose to 79 on Wednesday and emergency crews worked overtime as temperatures sank to minus 32.5 C (minus 26.5 F) in some areas.
Parts of the Black Sea froze
near the Romanian coastline and the
rare snow fell on Croatian islands in the Adriatic Sea
.
In Bulgaria, 16 towns recorded their lowest temperatures since records started
100 years ago
.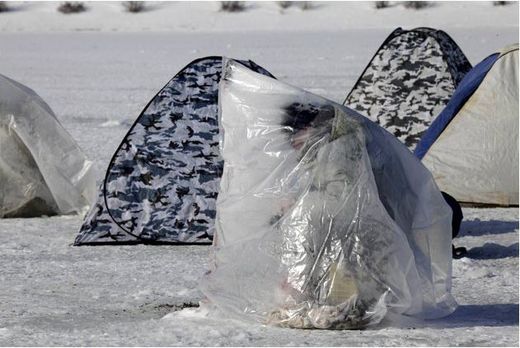 In central Serbia, choppers pulled out 12 people, including nine who went to a funeral but then could not get back over icy, snow-choked roads. Two more people froze to death in the snow and two others are missing, bringing that nation's death toll to five.
"The situation is dramatic,
the snow is up to five meters (16 1/2 feet) high in some areas, you can only see rooftops
," said Dr. Milorad Dramacanin, who participated in the helicopter evacuations.
---
Kosovo on alert - Bosnian villages isolated.

The death toll from the wave of freezing weather across Serbia over recent days has risen to six. The body of a man was found near to his home in Topola, south of Belgrade. Before then, another five had died across the country as temperatures sank to a record -36 degrees in the southern highlands of Pesterska. In the city of Sjenica, thermometers stood at -29, while in Belgrade the temperature at 7am today was -12. A state of emergency has been declared in around fifteen areas. Dozens have been admitted to hospital with broken bones following falls on the ice. The coldest temperature ever recorded in the southern highlands of Pesterska was -39.4 degrees in 1986.

The cold has also caused emergency conditions in Kosovo, where temperatures dropped to -22 degrees last night. Snow and ice are causing traffic problems in some parts of the country although the main routes are free. Low temperatures led to electricity blackouts in some areas, although no deaths have been reported.
---