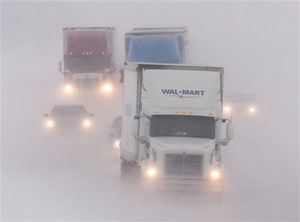 Des Moines - Snow was piled so high in Iowa that drivers couldn't see across intersections and a North Dakota snowblower repair shop was overwhelmed with business as residents braced Thursday for heavy snow and wind chills as low as 50 below zero.
Frigid weather also was gripping the South, where a rare cold snap was expected to bring snow and ice Thursday to states from South Carolina to Louisiana. Forecasters said wind chills could drop to near zero at night in some areas.
Dangerously cold wind chills were anticipated in the Midwest overnight, including as low as 35 below in eastern Nebraska, minus 45 in parts of South Dakota and negative 50 in North Dakota, according to National Weather Service warnings.
Another 10 inches of snow was expected in Iowa, buried in December by more than 2 feet of snow, while up to 9 inches could fall in southeast North Dakota that forecasters warned would create hazardous zero-visibility driving conditions. Wind gusts of 30 miles per hour were expected in Illinois - along with a foot of snow - while large drifts were anticipated in Nebraska and Iowa.