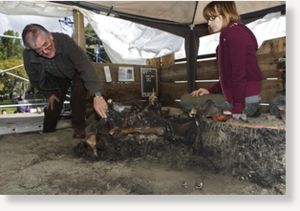 With a dental pick in hand, Karin Rice delicately scraped off a clump of asphalt from a pelvic bone belonging to a horse that roamed Los Angeles tens of thousands of years ago.
Like many unsuspecting creatures of the last Ice Age, the horse probably stopped to take a sip of spring water only to be ensnared - and later preserved - in a pool of sticky asphalt that seeped from underground crude oil deposits.
"You're opening up this ancient world and getting to look back in time," Rice said during a recent dig at the La Brea Tar Pits in the heart of Los Angeles.
For the past three years, scientists have been sifting through a significant trove of bones and a nearly intact mammoth skeleton discovered in 2006 during the construction of an underground garage next to the tar pits.
It's been slow going. To make room for the parking structure, researchers at the George C. Page Museum built wooden crates to house the cache and trucked them to the tar pits complex where excavators use power and hand tools to break up the soil.
Careful to avoid the mistakes of early diggers who only prized large mammals bones and little else, a small army of museum employees and volunteers painstakingly chisels away seven days a week, recovering not only animal bones, but also saving the dirt for later inspection for microfossils.