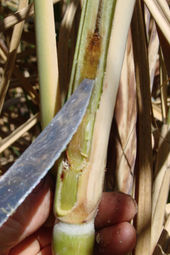 Sao Paulo - Last week's frosts in southern Brazil damaged nearly a fifth of the unharvested cane crop in the principal growing region, an event likely to cut sugar exports from the world's largest producer, agriculture research company Datagro said Wednesday.
Severe early morning frosts on July 24 and 25 in three of Brazil's top sugar-cane states devastated large areas, Datagro President Plinio Nastari told Reuters. The cold blight comes at the peak the crushing season when more than half of Brazil's expected record 590-million-tonne crop remains unharvested.
Although Nastari was unable to say how much mill-output will drop or reduce a global sugar glut that has pushed prices to three-year lows, he said 65 million metric tons, or 18 percent of the cane standing uncut in fields was damaged by the frost.
Frost in tropical Brazil has long been a weather risk for global coffee markets. This frost, though, is the first in recent history that threatens to significantly cut sugar output and it's impact will likely extend into the next harvest too.