A new study published in the scientific journal
Science
reveals the circulation of the atmosphere over the Mediterranean during the last ice age, 23,000 to 19,000 years ago, and how this affected the local climate.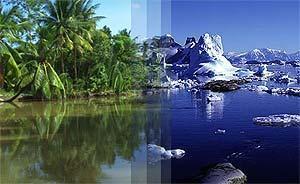 ©National Oceanography Centre, Southampton
Cold polar air often invaded the Mediterranean region during the last ice age, causing more rain and snow to fall on Mediterranean mountains.
This innovative study paves the way for future interdisciplinary efforts to understand and predict regional climate change, and is co-authored by Professor Eelco Rohling of the University of Southampton School of Ocean and Earth Science, based at the National Oceanography Centre, Southampton.
The Intergovernmental Panel on Climate Change has identified the Mediterranean as a "future climate hot spot" likely to suffer increasingly from severe droughts, heat waves and wildfires, due to global climate change. This is potentially bad news for the many people who now live in the region.
The new work gives important clues about regional rainfall patterns in the past. This will help scientists check computer simulations of the Mediterranean climate, which is essential for predicting and planning for future climate in the region.