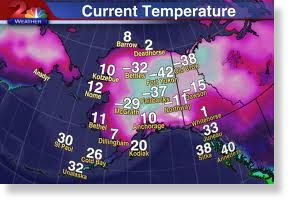 A mid-November cold snap seems to have caught even seasoned Fairbanksans off guard.
"I don't think anybody was really expecting this," 43-year-old Shawn Ross, a lifelong Fairbanksan, said. "This came out of the blue."
For the second time in three days, Fairbanks set a new low temperature record on Thursday. A temperature of 41 degrees below zero - the first 40 below temperature of the season - was recorded at Fairbanks International Airport at 6:29 a.m., according to the National Weather Service in Fairbanks. That broke the old record of 39 below set in 1969.
The cold air settling in the flatlands has concentrated air pollution. The Fairbanks North Star Borough issued air quality advisories on Wednesday and Thursday because particulate matter was above the U.S. Environmental Protection Agency's standards and rated as unhealthy for sensitive groups.
Fairbanks set a new record of 35 below on Tuesday and the temperature bottomed out at 39 below on Wednesday, two degrees shy of the record.
Thursday's record low of 41 below marked the sixth earliest 40-below temperature recorded by the National Weather Service in Fairbanks since 1904. The earliest it's ever hit 40 below in Fairbanks was Nov. 5, 1907, when it hit 41 below.