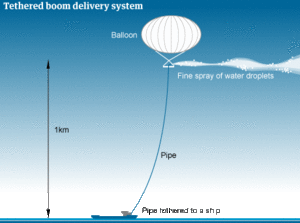 Field test by British academics marks first step towards recreating an artificial volcano that would inject particles into the stratosphere and cool the planet
It sounds barmy, audacious or sci-fi: a tethered balloon the size of Wembley stadium suspended 20km above Earth, linked to the ground by a giant garden hose pumping hundreds of tonnes of minute chemical particles a day into the thin stratospheric air to reflect sunlight and cool the planet.
But a team of British academics will next month formally announce the first step towards creating an artificial volcano by going ahead with the world's first major "geo-engineering" field-test in the next few months. The ultimate aim is to mimic the cooling effect that volcanoes have when they inject particles into the stratosphere that bounce some of the Sun's energy back into space, so preventing it from warming the Earth and mitigating the effects of man-made climate change.
Before the full-sized system can be deployed, the research team will test a scaled-down version of the balloon-and-hose design. Backed by a £1.6m government grant and the Royal Society, the team will send a balloon to a height of 1km over an undisclosed location. It will pump nothing more than water into the air, but it will allow climate scientists and engineers to gauge the engineering feasibility of the plan. Ultimately, they aim to test the impact of sulphates and other aerosol particles if they are sprayed directly into the stratosphere.