Extreme Temperatures
---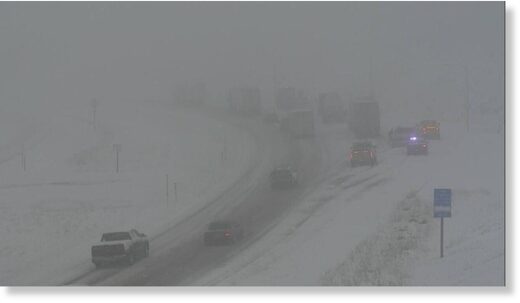 Downed trees and branches are causing power outages in Bozeman Monday morning.
Power is out in many areas of Bozeman due to impacts from the heavy morning snow.
Many traffic signals are out of order due to the power being out including; Durston/19th, traffic lights on 7th Ave south of Oak St, traffic lights on Main Street west of 7th
Northwestern Energy, the Montana Department of Transportation, and the City of Bozeman are responding to remove downed trees.
---
Spencer Burt , Spencer Joseph
Fox13now.com
Sat, 09 Oct 2021 12:41 UTC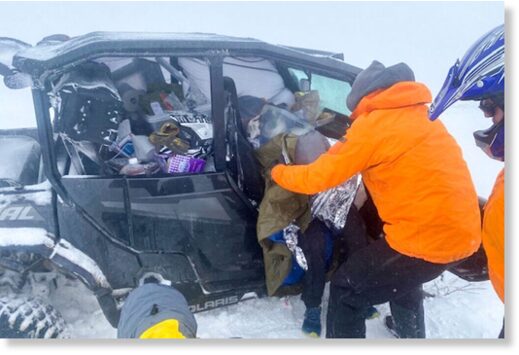 Some
trail runners participating in an ultramarathon Saturday morning were rescued from the mountains in Davis County after a snowstorm hit the area.
At about 9:30 a.m., the Davis County Sheriff's Office was notified about an "emergency situation" involving 87 runners. They faced extreme weather, including 12-18 inches of snow and almost white-out conditions.
The race was suspended, and the sheriff's office's search and rescue team responded on foot, ATVs and snowmobiles to help the runners get down the mountain safely.
Race organizers worked with the search and rescue volunteers to make sure all registered participants were accounted for, and the rescuers covered the entire course. All the runners were off the mountain by 2:45 p.m.
Farmington Canyon was closed to all non-emergency vehicles during the process.
---
Joanne Nova
JoNova
Sat, 09 Oct 2021 18:12 UTC
The only people worth silencing are those who are right.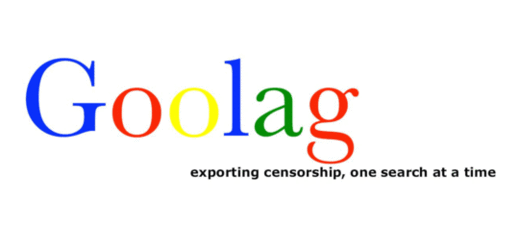 Google is waging a war against skeptics because skeptics have the truth on their side and they win debates too easily. How do we know? There are plenty of wrong people on the internet, and acres of misinformation, but Google is happy to feed those creators. The Flat Earthers are not spreading fast on Youtube, they're not attracting millions of views. But no one needs to cut off their money supply because their arguments aren't persuasive. To stop those ideas from running amok, the world only needs free speech.
Google announces: ...a new monetization policy for Google advertisers, publishers and YouTube creators that will prohibit ads for, and monetization of, content that contradicts well-established scientific consensus around the existence and causes of climate change. This includes content referring to climate change as a hoax or a scam, claims denying that long-term trends show the global climate is warming, and claims denying that greenhouse gas emissions or human activity contribute to climate change.

Google demonetizes content creators who deny climate change

by Ian Miles Cheong, Rebel News
Arrogance knows no bounds:
The tech giant claims it will be able to differentiate between content "that states a false claim as fact, versus content that reports on or discusses that claim."
Who needs scientists anyhow - just Google the truth instead of doing all those experiments?
It's time for skeptics to hone their skills in satire and parody. Let's screw those algorithms!
For content creators who were relying on Youtube adverts, losing the monetization could kill the business, it's a cruel blow. Google's behaviour is grossly unfair and deceptive. It sold itself as a "platform" deceived people into watching and sharing their creative talents, and on November 1 could wipe them out. But good talent can still find a way — not only are there other, better video homes, but it's so much better to get a business model that doesn't feed or rely on Google. My advice would be to connect with your audience, set up a blog or a website, and ask for help and donations. Use Youtube while you still can, to set up a list.
---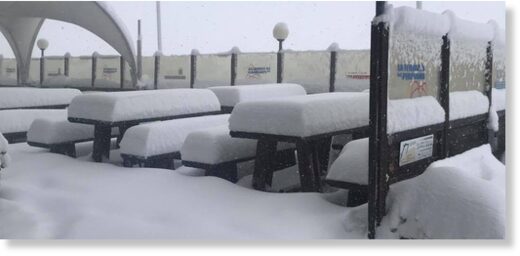 Ski resorts across the Alps have been reporting heavy snowfall. Glacier areas, including centres that are already open for there 21-22 ski season, have reported up to 30cm (a foot) of snowfall.
Italy's Passo Stelvio is pictured top, it reports 25cm (10″) of fresh snow
and is one of eight glacier areas in Austria, Italy and Switzerland already open for the ski season, four more are due to open this coming weekend, along with the first two centres up in Finland, Levi and Ruka. The 21-22 ski season in France is due to start in Tignes the weekend after next.
---
Laine Mitchell
Daily Hive
Tue, 05 Oct 2021 18:26 UTC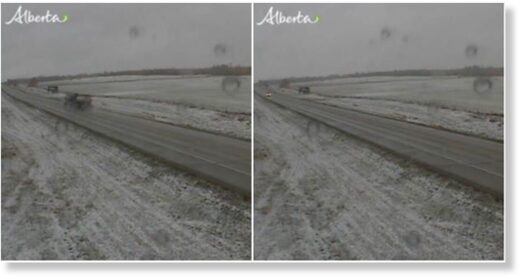 Albertans know the weather can get dicey as we slide into October, and one part of the province has already skipped autumn with snow falling in the area.
The white stuff could be seen on the
AMA Road Report camera
of Highway 43 east of the Alberta/British Columbia border near the hamlet of Demmit in northern Alberta.
The snow should be no surprise for those living in the area, with the forecast for nearby Grande Prairie calling for periods of light rain today but the chance of periods of wet snow this evening near the B.C. border, with snowfall amounts near two centimetres accumulating in the area according to
Environment Canada.
---
RT
Mon, 04 Oct 2021 06:47 UTC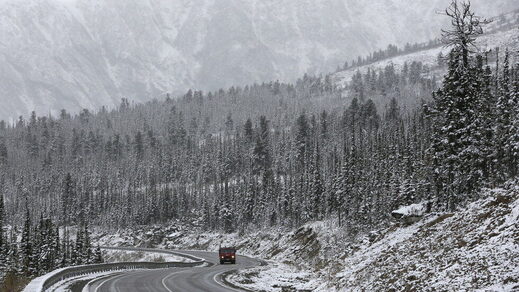 One of Russia's top forecasters has warned that extreme weather is predicted to hit the Northern Hemisphere later this year, sparking concerns that it could worsen a deepening energy crisis setting in across parts of Europe.
Harsh conditions are predicted to hit Russia
in early January, with snow in Siberia estimated to reach levels twice as severe as the average
. On Monday, the meteorological center Phobos also reported that "snowdrifts almost a quarter larger than the norm" could sweep across Moscow.
In recent weeks, much of Western Europe has seen a rapidly growing energy crisis, with some parts of the continent experiencing a 250% increase in the price of gas for the heating and fuelling industry. Petrol stations in the UK running dry faster than they can secure new deliveries have caused severe delays and fights breaking out at refill forecourts.
---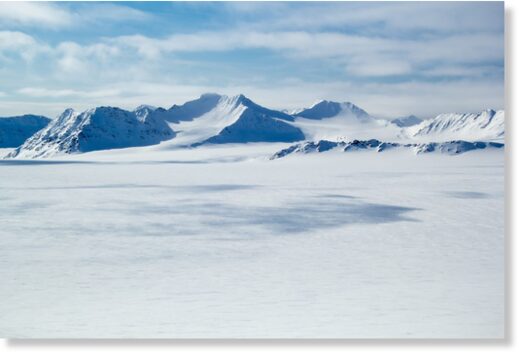 This first observations for the FMI's "Total Snow Mass For The Northern Hemisphere" chart have just been plotted, and as occurred in previous years,
the season has opened well-above the 30 year average.

The opening data-point for the 2021-22 season is approximately 250 Gigatons above the 1982-2012 average, proving once again that IPCC prophesies of decreasing snow cover were formed on flawed foundations: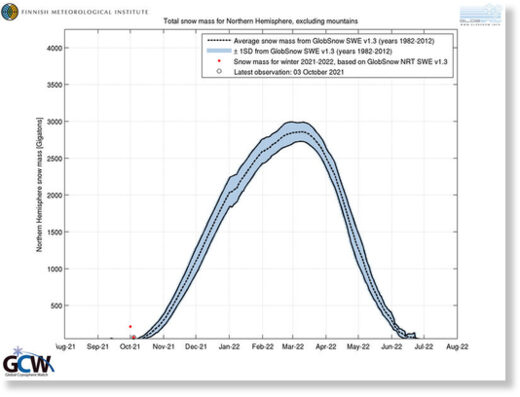 Red 'un-circled' dot indicates opening of the season, at 250 Gts above the average [
FMI
].
---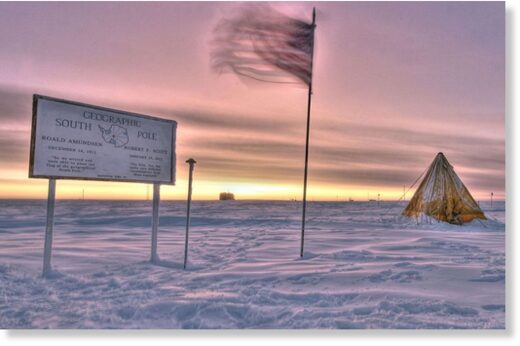 Contrary to the MSM's agenda-driven narrative, the South Pole has been suffering unprecedented cold this year.
Between the months of April and September, the South Pole averaged a temperature of -61.1C (-78F).
Simply put, this was the region's coldest 6-month spell ever recorded, and it comfortably usurped the previous coldest 'coreless winter' on record — the -60.6C (-77F) set back in 1976 (solar minimum of weak cycle 20).
This incredible and AGW-destroying reality is confirmed by Antarctica climatology journalist Stefano Di Battista who has closely watched and published research on Antarctic temperatures for many years:
---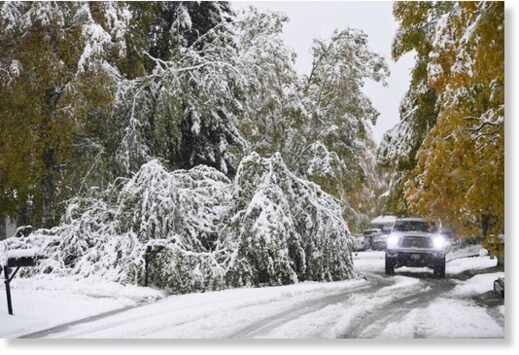 Snow across the Anchorage area Friday forced school closures, made roads slippery and caused power outages.
By Friday morning, unofficial snow totals included 13 inches on the Upper Hillside
and about 4 inches in Eagle River, while much of the west side of Anchorage saw next to nothing, said Alan Shriver a meteorologist with the National Weather Service in Anchorage.
The snow was continuing on the east side Friday morning, Shriver said, and was expected to continue mixed with rain throughout the day before tapering off by 8 p.m.
Power outages across the city were caused by the heavy, wet snow falling early in the season while many trees still have leaves -- heavy branches had fallen on lines, said Julie Hasquet, spokeswoman for Chugach Electric Association. Crews were working to restore power Friday morning.
Comment:
Update
: On September 28 came this (extracted) report from
FasterSkier.com
:
An autumnal survey of who's got early snow is somewhere between a trope and a cliché in these pages. Consider, for example, "Early Season at Hatcher Pass: A Photo Essay," "Early-Season Snow: A Photo Roundup," or "Alaskans Revel in October Skiing at Hatcher Pass, Birch Hill" (with photos). You may sense a theme here.

But the earliest on-snow dates in these articles are October 6, October 14, and October 15. How would you like to read that same article, but set in - *record scratch* - September?

All of which is to say, it snowed in Anchorage over the weekend. A lot.

Like, up 16 to 20 inches a lot.

Like, knee-deep on Reese Hanneman a lot. As the local National Weather Service office explained, "moisture from [Cook Inlet and the] Gulf of Alaska was pushed against the Chugach Mountains in what is called upslope flow. The cooling of the air as it moves up the terrain, combined with a steady influx of moisture and upper level support, created the large spread in snow totals over the eastern side of town and into the Chugach Front Range."


---