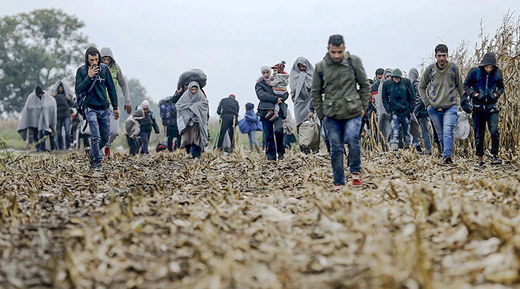 Asylum seekers, who have been prevented from crossing into Hungary, are now flowing into Slovenia. Hungary has responded by saying it will temporarily impose border controls with Slovenia, while Ljubljana said it would deploy its army at the border.
"The government has decided to include the army in helping police," the Slovenian Prime Minister Miro Cerar said on Saturday, following a meeting of Slovenia's national security council. Ljubljana has had to deal with an influx of refugees after Hungary closed its border with Croatia. The first bus with refugees arrived at the Slovenian-Croatian border on Saturday morning.
"The bus is on the border crossing (Gruskovje) and the migrants will now go through a registration process," police spokesman Bojan Kitel told Reuters.
EU member Hungary took a restrictive approach to the refugee crisis that the union is facing this year. Previously it erected a wire fence along the border with non-member Serbia and fellow member Croatia to prevent illegal crossings. The border blockade with Croatia was issued on Friday night, with
Budapest [Hungary] explaining that it was protecting Europe, its prosperity, security and Christian values.