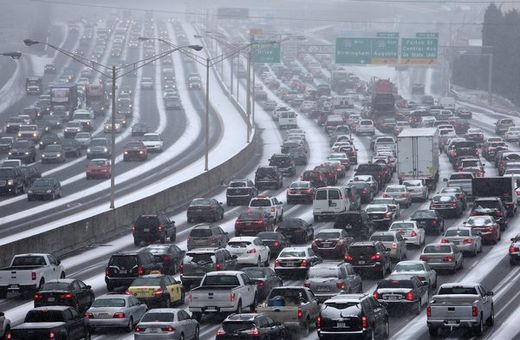 Thousands of commuters were trapped in cars overnight on highways in the greater Atlanta area, hundreds of students remained inside dozens of schools Wednesday morning and at least 50 children spent the night on school buses because of an ice storm that is still gripping the deepest parts of the South.
Residents ran out of medicine, a baby was born to a stranded mother and pleas for help flooded Twitter and Facebook as a region that rarely deals with ice and snow came to a screeching halt during a rare meteorological event that was still icing points this morning as far south as Brownsville, Tex.
"
This came very suddenly
," Craig Witherspoon, superintendent of Birmingham City Schools in Alabama, said Wednesday morning. An estimated 600 students in his district spent the night in schools, tended by about 100 staff members.
"All reports for the Birmingham area were that we'd get a light dusting to the south of where we were," Mr. Witherspoon said. "And the flakes started coming, and then it just poured out."