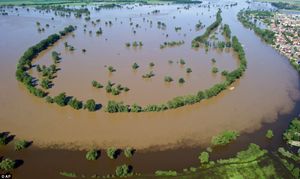 Extreme weather being driven by climate change is the biggest threat to British farming and its ability to feed the nation's growing population, according to Peter Kendall, president of the National Farmers' Union.
His comments, in an interview with the
Guardian
, come after a week of intense weather extremes. Last Monday, west London experienced the
hottest day for seven years
, while on Tuesday the drought in many parts of the country came to an end with intense thunderstorms that brought
almost a month of rain in a day to parts of Worcestershire
. Torrential downpours also put a dampener on the first weekend of the school summer holidays, with flash-flooding in parts of the south-east and the Midlands.
"The biggest uncertainty for UK agriculture is extreme weather events," said Kendall, who grows wheat and barley on the 250-hectare (620 acre) farm in Bedfordshire he runs with his brother. "I sometimes have a pop at those who say climate change is going to help farming in northern Europe.