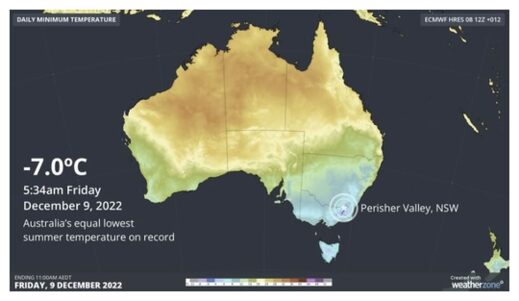 Weatherzone
report that Thursday was the
equal
coldest morning ever recorded anywhere in Australia in summer time.
Oddly, there were no preemptive emergency warnings the night before, no news stories announcing the area "might" hit a new record, no camera teams visited the scene and the BOM did not invent a Coldsnap Emergency Alert System to tell Australians to put on a jumper.
On Thursday, Perisher Valley in the Australian Alps got down to minus 7.0 C (19F) equalling the record set in Perisher in January 1979 and which was also reached at Charlottes Pass in December 1999.
Oddly, no one blamed this on climate change, or mentioned that it would have been worse if we hadn't burnt all that coal. After all, without CO2, it would have been minus ten, right?