Chicago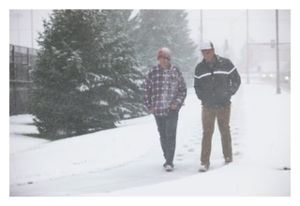 - The upper Midwest was recovering on Saturday from an unusual autumn wallop from a fierce snowstorm that trapped dozens of people in vehicles in western South Dakota and a swarm of tornadoes that left at least 15 people injured in rural Nebraska and Iowa.
More than 80 motorists remained stranded in western South Dakota after a blizzard rolled out of the Rocky Mountains and dumped up to three feet of snow on parts of the Northern Plains.
"Our priority right now is to get those people to a warm location," said Alexa White, spokeswoman for the Rapid City-Pennington County Emergency Management Office in South Dakota. "Many of them are out of gas in their vehicles."
To the east, emergency responders combed through debris in Iowa and Nebraska after 18 reports of tornadoes touching down overnight, including some cutting a swath as wide as a mile.
Fifteen people were injured in Wayne, Nebraska, including one man who suffered broken bones when his pickup truck was hit by a tornado, according to Nebraska emergency management spokeswoman Jodie Fawl.
Fawl said the twister did millions of dollars of damage - pummelling a local airplane hanger, farm implement supply businesses and several homes.