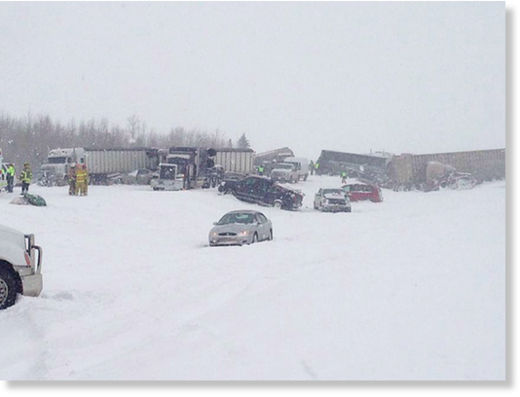 As snow continued to fall throughout the night, City of Edmonton spokeswoman Laura McNabb warned commuters to expect longer-than-usual travel times.
"If the snowfall stopped, it would be far better," McNabb
told the Edmonton Journal
. "It's a lot of snow. Our guys are doing their best to get the snow off the road and lay down abrasives ... and they're just going to keep at it."
McNabb said the entire city fleet, consisting of more than 200 pieces of equipment, would clear the streets but commute times might be approximately doubled.
"There will be delays, that's just to be expected in these conditions," McNabb said, "If you don't have to be on the roads tomorrow, it might be a good day to take a day off."
A 23-year-old woman, a four-year-old girl and a two-year-old boy were killed Thursday morning when the compact car they were in crashed head-on with a truck about 180 kilometres northwest of Edmonton. Three others were seriously injured.
Mounties say it was snowing heavily at the time and visibility was poor.
The driver of the truck, a 46 year-old male, is facing several charges, including dangerous operation of a motor vehicle causing death.