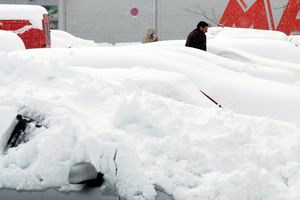 Snow drifts reaching up to rooftops kept tens of thousands of villagers prisoners in their own homes Saturday as the death toll from Europe's big freeze rose past 550.
More heavy snow fell on the Balkans and in Italy, while the Danube river, already closed to shipping for hundreds of kilometres (miles) because of thick ice, froze over in Bulgaria for the first time in 27 years.
Montenegro's capital of Podgorica was brought to a standstill by snow 50 centimetres (20 inches) deep, a 50-year record, closing the city's airport and halting rail services to Serbia because of an avalanche.
Eight more people were reported to have died in Romania, taking the toll for the country to 65, three in Serbia, one in the Czech Republic and one in Austria.
Polish fire brigade spokesman Pawel Fratcak said Saturday that defective heating had triggered a spate of deadly blazes in houses and apartments, with eight people killed on Friday night and three the night before.