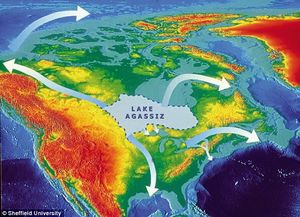 Collapse of Giant Ice Age Glacial Lake responsible for carving out the Bahamas.
A team of researchers have uncovered evidence that a Mega-Flood, or series of megafloods, from beneath the Ice Age Laurentide Ice Sheet shaped the Bahama Islands. These Mega-Floods traveled down the Mississippi River Valley and into the gulf of Mexico.
These Megafloods entered the Gulf, rapidly raising the water level and forcing the overflow out through the much smaller Florida/Cuba Straits. This Glacial overflow then spread across the lower lying area known as the Bahama Mega-Bank. 12,000yrs. ago, (with sea levels at least 300 ft. lower than today) the Bahama Mega-Bank was an exposed land mass larger than present day Florida.
The megafloods originated from Glacial Lake Agassiz. Lake Agassiz was an Ice Age Lake formed by receding Glaciers.and covered an area of roughly 365,000 square miles. It was the largest lake in the world. The megafloods from Lake Agassiz traveled down the 120 mile wide, 600 mile long Mississippi River Valley. The Mississippi Valley covers an area of 35,000 sq. miles and was itself cut out by this same Ice Age flooding. The Ice Age melt water through this valley fed into the Gulf of Mexico.