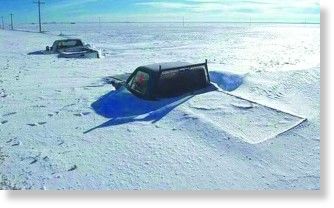 Heavy snowfall and blizzard left 98 people lost, 140 cars and more households covered in snow, and numerous livestock dead nationwide last week.
A total of 98 people were reported missing
in Arkhangai, Dundgovi, Uvurkhangai, Tuv, Uvs and Bulgan Provinces. From them, 96 were found safe while one was found dead and one is still missing.
Dundgovi Province Police reported that the last missing person to be found is a 50-year-old herder of Erdenedalai soum, who was reported missing during a blizzard while herding. He was found far from his home in another soum, Luus.
The herder said he found a winter quarter of another herder and took shelter until the blizzard died.