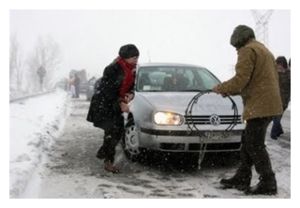 Heavy snowfall in northern parts of the Greek capital on Tuesday prompted authorities to close roads and schools, while municipal authorities made three public buildings to the homeless shelters as temperatures dropped to the 0-Celsius mark.
The Penteli ring road was closed early on Tuesday due to ice and fog and was reopened to traffic later in the morning, while Dionysos Avenue remains off limits from Anatoli to Dionysos and drivers were advised to use snow chains on the road between Katsimidiou and Aghiou Merkouriou in Tatoi.
The old national highway linking Thiva to Athens was shut off to lorries and other heavy vehicles, with regular cars allowed access only with snow chains, as the road leading from the funicular to Mont Parnes Casino on Mount Parnitha remained closed from Sunday.
Several schools were also given the day off in Dionysos, Penteli, Nea Penteli, Kapandriti, Kalamos, Malakasa, Petroupoli and Liosia, among other parts of northern Attica.
Meanwhile, the city of Athens opened three emergency centers for the homeless on Monday at buildings on the corners of Lenorman and Alexandreias, Mamouri and Dymis, and Aghiou Meletiou and Xenagora. The 1960 hotline will also be operating 24 hours a day where citizens can report the location of homeless people in distress.
Municipal day centers for the elderly (KAPI) will be open from 8 a.m. to 8 p.m. on Tuesday and Wednesday, providing heated shelter.
The meteorological service expects the cold snap to continue through Wednesday, with temperatures starting to climb back up on Thursday and Friday.