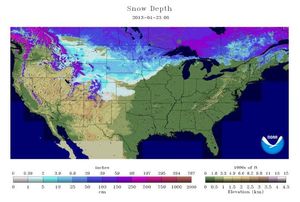 Spring has gotten off to a colder- and snowier-than-average start in parts of the United States, particularly in the eastern Rockies and Upper Midwest.
Duluth, Minn., for example, has seen 51 inches (130 centimeters) of snow this April.
That's not only the most snow the town has seen in any April - breaking the old mark of 31.6 inches (80 cm) - but the most snow the town has received in any month, ever, according to government records.
As of Monday (April 22), a total of 995
snowfall records
have also been broken so far this month, according to AccuWeather. Over the same time period last year, 195 snowfall records had been broken.
More than 91 percent of the upper Midwest also has snow on the ground as of today (April 24), meteorologist Jason Samenow wrote
at the Washington Post's Capital Weather Gang
blog.
"Snow cover in the previous 10 years on this date hasn't even come close to reaching this extent (ranging from 19 percent to much lower),"
he wrote.
So why has spring failed to take hold? Blame the jet stream.
The record snow and below-average cold is due to a trough or dip in
the jet stream
, which has brought blasts of freezing air as far south as the Mexican border, said Jeff Weber, a scientist with the University Corporation for Atmospheric Research in Boulder, Colo.