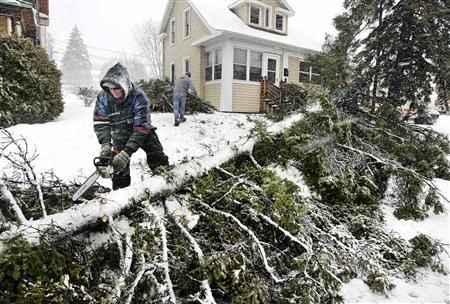 Freezing weather in the U.S. gripped parts of Texas and Arkansas on Saturday, with hundreds of thousands of people coping in the cold without power after a winter storm made roads impassable and caused severe flight delays.
More than 3,300 travelers were forced to sleep on cots overnight at Dallas-Fort Worth International Airport, where workers had managed to thaw only two of its seven runways by Saturday morning.
Airlines canceled more than 350 flights from DFW that were scheduled for Saturday, the airport said in a statement.
At the height of the storm, some 267,000 electricity outages were reported in Texas, according to utility provider Oncor, but that number was down to about 130,000 early on Saturday. Oncor said it hoped to get power restored to "nearly all of its customers by Sunday night.
Forecasters predicted sub-zero temperatures and icy conditions in the region for the rest of the weekend, with layers of ice and sleet up to 3 inches thick around Dallas. The city has already canceled a marathon planned for Sunday.
Cold weather was due to roll into the Northeast on Sunday through Monday. Accuweather predicted a "wintry mess" of ice, freezing rain and some of the first snow accumulations of the season from Virginia to New England, which may cause further travel delays.
Source: Reuters