Heavy snow has damaged large areas of crops while stopping traffic on many roads in Sa Pa district, the northwestern mountainous province of Lao Cai.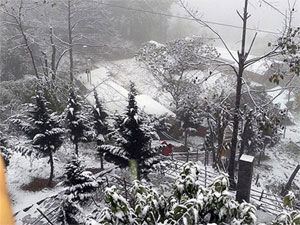 According to the Department of Agriculture and Rural Development of Sa Pa, more than 100 hectares of chayote and another 100 hectares of flowers were buried under snow.
Thick ice also blocked about 10 kilometres of Highway 4D linking Lao Cai and Lai Chau provinces. Efforts have been made by local authorities to clear the roads.
Freezing temperatures have also forced more than 8,500 pre-school and primary school students to cease their schooling.
According to the Lai Chau Department of Education and Training, thousands of students in the hard-hit districts of Sin Ho, Phong Tho and Tam Duong have had to stay at home. Students in 63 schools in Sa Pa, including 20 nursery, 22 primary and 21 secondary schools, have been allowed to stay at home on December 16 and 17.