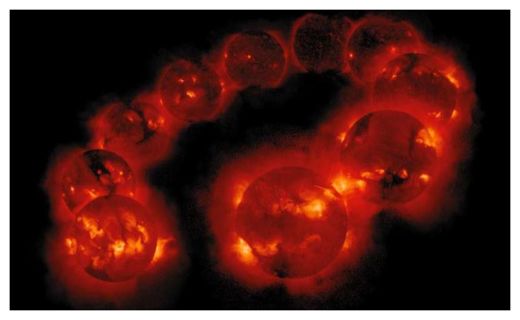 A new model of the Sun's 11-year heartbeat suggests that
solar activity will fall by 60 per cent
during the 2030s, dropping to conditions last seen during the Maunder minimum.
Beginning in about 1645, the Maunder minimum corresponded with the severest portion of the last "Little Ice Age."
Results of the new study were to be presented yesterday by Prof Valentina Zharkova at the National Astronomy Meeting in Llandudno.
Many solar physicists think the solar cycle is driven by a dynamo caused by convecting fluid deep within the Sun. However, when Zharkova and her colleagues added a second dynamo close to the surface, they found that it completed the picture with unprecedented accuracy.
"Our predictions showed an accuracy of 97%," said Zharkova.
The model predicts that the waves from the two dynamos will become increasingly offset during Cycle 25, which peaks in 2022. During Cycle 26, from about 2030 to 2040, the two waves will become exactly out of synch, leading to a significant reduction in solar activity.