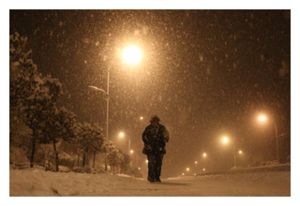 Beijing gripped in a cold snap is experiencing one of the coldest New Year periods in the local meteorological history, according to the municipal observatory on Wednesday.
The observatory issued the yellow low-temperature weather alert on Tuesday afternoon. The warning is second only to red alert.
It forecast that the cold snap in accompany with powerful wind would drive down the lower temperature to minus 14 degrees Celsius on Wednesday, approaching the extreme record of minus 16 degrees Celsius.
The temperature in the Inner Mongolia Autonomous Region to the north of Beijing has dropped to minus 40 degrees Celsius with snow on ground piling up 50 centimeters in some areas of the Greater Hinggan Mountains.
The rare winter cold caused frost on expressways in eastern Shandong Province, which has also issued yellow icy road alert. The provincial observatory said the cold snap is likely to linger till Friday.