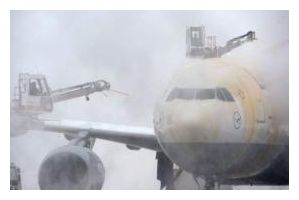 London - Hundreds of flights were cancelled and hazardous roads and railways disrupted traffic and caused countless accidents across Europe on Monday as heavy snow and freezing weather gripped the continent.
Frankfurt airport, Germany's main air hub, cancelled around 500 departing and arriving flights, representing 40 percent of its daily schedule.
The busiest airport in Europe, London Heathrow, scrapped more than 200 flights.
Heathrow said a decision was taken 24 hours in advance to cancel 130 flights due to predicted poor visibility, but problems elsewhere in Europe were having an impact too.
"The additional cancellations are because a number of airports elsewhere in Europe are experiencing problems so that has a knock-on effect for us," an airport spokesman said.
Heathrow has spent 36 million pounds ($57 million) on upgrading its snow-clearing equipment since 2010, when freezing temperatures and snow almost brought the airport to a halt in the approach to Christmas.
Freezing rain and snow also led to treacherous conditions on railways and roads, triggering numerous accidents.