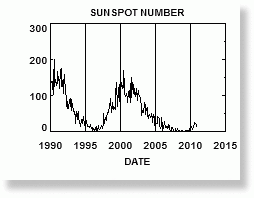 An eminent Mexican geophysicist says that despite predictions of global warming based on computer models, the world may be on the verge of an eighty-year cold period similar to the "little ice age" experienced by Europe from 1300 to 1800 A.D..
Víctor Manuel Velasco, of the University of Mexico's Institute of Geophysics, says that recent winter conditions are similar to those of the "little ice age", and in particular the "Maunder Minimum," a period during which sunspot activity dropped significantly.
He also notes that the Earth is in a similar position today in relation to the rest of the solar system, a fact which he regards as significant for climate.
"We are talking about the period between 1645 and 1715, which is known as the Maunder Minimum, a period in which the sunspots practically disappeared from the surface of the sun, and in which our planet occupied a position similar to which it has today, with respect to the center of gravity of our [solar] system." Velasco said in an interview published by the university.