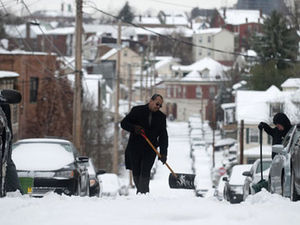 Fifteen people have died in the powerful winter storm that triggered tornadoes in the American South and is now burying the Northeast in snow. With hundreds of flight delays, post-Christmas air travelers still remain stuck at US airports.
Since Tuesday, 15 have died in weather-related incidents across the US, including a 1-year-old and a 2-year-old who were killed in a car accident. While many of the victims lost their lives during traffic accidents caused by the rough weather, others were crushed to death by falling trees.
Throughout Indiana, the snowfall ranged from 6 to 12 inches, forcing the state to employ 350 snowplows to clear the roads.
"It's pretty bad. You get a lot of drifting out there. That's what's killing us, mainly,"
plow driver David White told
CNN
affiliate
WRTV
.