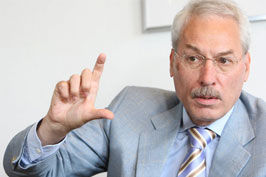 And: "
Extreme weather is the only card they have got left to play
."
So says German
Prof. Fritz Vahrenholt
, who is one of the founders of Germany's modern environmental movement, and agreed to an interview with NoTricksZone. He is one of the co-authors of the German skeptic book "
Die kalte Sonne
", which took Germany by storm last year and is now available at bookstores worldwide in English under the title:
The Neglected Sun
.
In Germany Prof. Vahrenholt has had to endure a lot heat from the media, activists, and climate scientists for having expressed a different view. But as global temperatures remain stagnant and CO2 climate sensitivity is being scaled back, he feels vindicated.