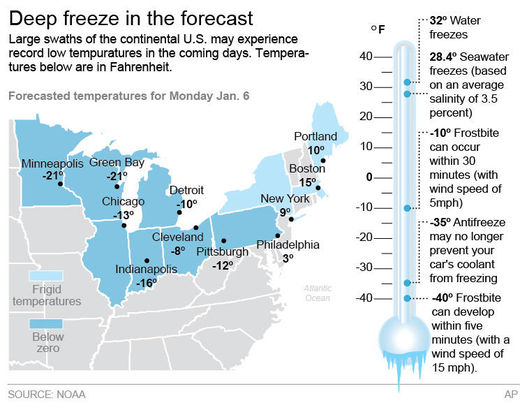 It has been decades since parts of the Midwest experienced a deep freeze like the one expected to arrive Sunday, with potential record-low temperatures heightening fears of frostbite and hypothermia - even in a region where bundling up is second nature.
This "polar vortex," as one meteorologist calls it, is caused by a counterclockwise-rotating pool of cold, dense air. The frigid air, piled up at the North Pole, will be pushed down to the U.S., funneling it as far south as the Gulf Coast.
Ryan Maue, of Tallahassee, Fla., a meteorologist for Weather Bell, said records will likely be broken during the short yet forceful deep freeze - a perfect combination of the jet stream, cold surface temperatures and the polar vortex - that will begin Sunday and extend into early next week.
"
All the ingredients are there for a near-record or historic cold outbreak
," he said "If you're under 40 (years old), you've not seen this stuff before."
Before the polar plunge, Saturday marked the day Earth is the closest it gets to the sun each year. The planet orbits the sun in an oval and on average is about 93 million miles away. But every January, Earth is at perihelion, and on Saturday, it was only 91.4 million miles from the sun.
But that proximity doesn't affect the planet's temperatures, and the predictions are startling: 25 below zero in Fargo, N.D., minus 31 in International Falls, Minn., and 15 below in Indianapolis and Chicago. At those temperatures, exposed skin can get frostbitten in minutes and hypothermia can quickly set in as wind chills may reach 50, 60 or even 70 below zero.