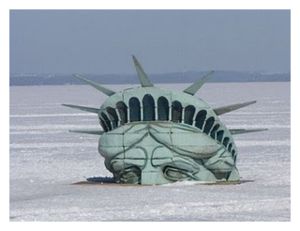 Unless you live in Seattle, you likely did not know that the
National Weather Service
just announced that the city endured its third coolest June on record. As much of America swelters through a heat wave, it's not surprising that the usual suspects are telling everyone that it's because of "global warming."
I have a longtime friend, Ron Marr who has a Jack Russell Terrier and in a recent commentary for
Missouri Life
magazine, he wrote that, "Jack doesn't believe in global warming in the least; he does not believe the recent atmospheric hellfire results from ozone holes or aerosol cans or giant leprechauns with a big magnifying glass. We share the same views on the topic and have discussed them often. Our considered opinion is that this streak of blazing nonsense stems from the fact that - to put it in scientific terms - it's summer and the sun is hot."
On July 3rd Seth Borenstein, a reporter for the Associated Press, a newswire service that has been reporting global warming lies for decades, wrote that "If you want a glimpse of some of the worst of global warming, scientists suggest taking a look at U.S. weather in recent weeks."
It's summertime, Seth! It gets hot in the summer!
It did not take long for the high priests of global warming to proclaim the current WEATHER to be CLIMATE. There's a very big difference. Weather is what is occurring now while climate is measured in terms of centuries. It's about trends and cycles.
It surely has been a hot summer thus far. Reuters reported that "more than 2,000 temperature records have been matched or broken in the past week as a brutal heat wave baked much of the United States." The announcement was made by the National Oceanic and Atmospheric Administration (NOAA) on July 2nd.
Meteorologist Joe Bastardi took another reporter to task for coupling the heat wave with global warming, pointing out that "The US is less than 10% of the globe" while ignoring that
"Scandinavia had coldest June on record and that Australia is having a bad winter."