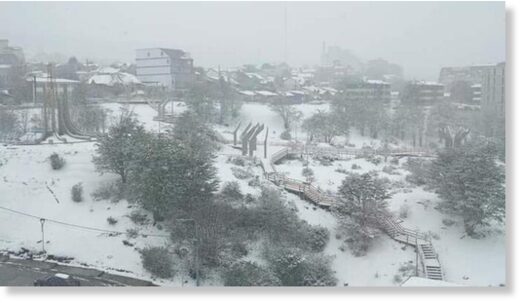 Heavy snow is registered this Saturday in Ushuaia and other areas of Tierra del Fuego with cold air that will reach southern Brazil on Tuesday.
A blizzard has hit southern Argentina since late morning this Saturday. The flakes began to fall in the city of Ushuaia around five in the morning and since then the white precipitation has not stopped. The snow intensified at times and fell hard, which brought accumulation and whitened the city of the Argentine province of Tierra del Fuego.
According to data from the Ushuaia airport, snow was heavy in the early afternoon of this Saturday with a temperature between 0ºC and 1ºC. Since the end of the night, the temperature in Argentina's southernmost city has barely fluctuated, varying between -1ºC and 1ºC. Meteorologist Nacho Lopez Amorim, from the National Weather Service, described the snowfall for the second half of October on his social networks as "impressive".