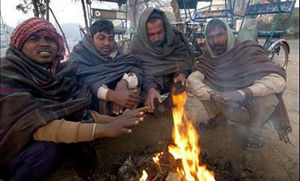 The winter, normally a season of feast and joy in the region, otherwise known for its enervating summers, has brought with it a strange phenomenon in recent weeks. Record chill has sent people scampering to keep themselves warm, and made commuting a dicey task, especially at night.
The strange thing about this phenomenon this season has been that it gripped the Pothohar region and the plains of Khyber Pakhtunkhwa as well, contrary to the trend of the past few decades when nearly blinding fog mostly affected the plain areas of the Punjab.
This time around, the 50-year cold records in the Punjab plains were broken, while also plunging the wide swathes of Pothohar and Khyber Pakhtunkhwa in an unprecedented cold spell, which spread over a fortnight or even three weeks, with weather pundits saying that maximum temperatures fell by as much as 10 degree Celsius.
After shivering even in the daytime during the two days in the 'aftermath' of fog-induced cold, Tuesday night brought with it some cheers for the winter-weary people, as a cloudy sky prevented fog to accumulate, also bringing visibility level back to normal for the traffic and keeping the temperatures from dipping to sub-zero level, as was seen in the previous two weeks.