Extreme Temperatures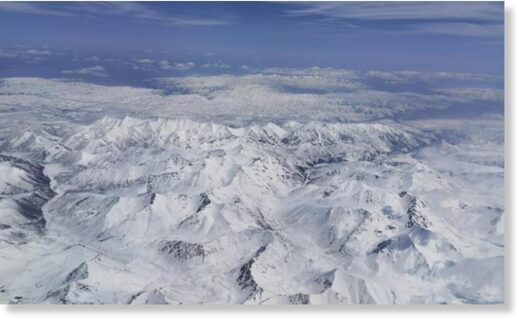 ---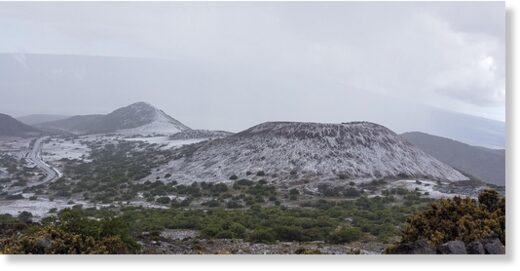 Even though summer is nearing and the days are getting hotter, snow is still present in Hawaii.
Officials say on Saturday night, a severe thunderstorm swept over the mountain and dropped snow along with quarter-inch-sized hail.
This time, rather than just the summit, the snow fell in the mid-level section,
which has an elevation of about 9,000 feet. The towering clouds mixed with orographic lift led to favorable conditions for the snow and hail, meteorologists said.
The hazardous conditions prompted officials to urge caution for those traversing the area.
Monday afternoon, the Mauna Kea Visitor Information Station reported weather conditions to be 2.11 °C, or about 35 degrees °F.
---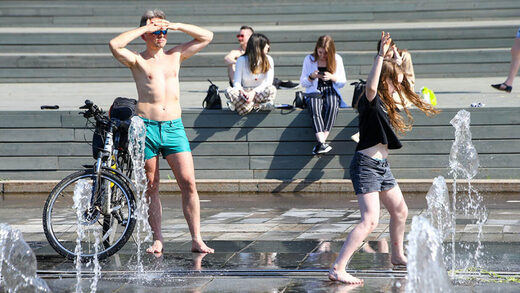 Moscow has beaten temperature records over 100 years old for the second day in a row Tuesday.
"It hasn't been as warm as today on this date in the entire history of weather observations,"
said
the Fobos weather center.
The mercury in the Russian capital rose to 29.2 degrees Celsius, beating the previous record set in 1897 by 0.1 degrees.
Temperatures are likely to climb higher and reach around 33 C later in the afternoon, when they will approach an all-time May record of 33.2 C that was set on May 28, 2007, Fobos said.
Tuesday's record comes one day after temperatures in Moscow
broke
the May 17 record, with 30.4 C edging out the 30.0 C set in 1897.
The Moscow branch of Russia's Emergency Situations Ministry urged residents to stay hydrated and avoid exposure to sunlight as it
warned
of temperatures climbing as high as 32 C.
---

It may be less than a fortnight until the start of summertime in the northern hemisphere (by the meteorological measure of the seasons),
but the past week has been particularly cold and snowy in the Alps for the latter half of May, with snowfall reported all week down to resort level at many areas.
At the same time pandemic restrictions are easing as virus cases drop and travel restrictions are being lifted at various rates and in differing ways across Europe, for those within the EU. As a result more glacier areas have been re-opening for late-spring or summer skiing.
Austria has the most glacier ski areas open - with seven expected to be operating this weekend as hospitality is now allowed to resume there for the first time ion 2021. The Dachstein (pictured top this morning), Kaunertal and Molltal glaciers have re-opened whilst the Pitztal and Stubai glaciers have extended their seasons in to June. The Kitzsteinhorn above Kaprun and the Hintertux near Mayrhofen are also open.
---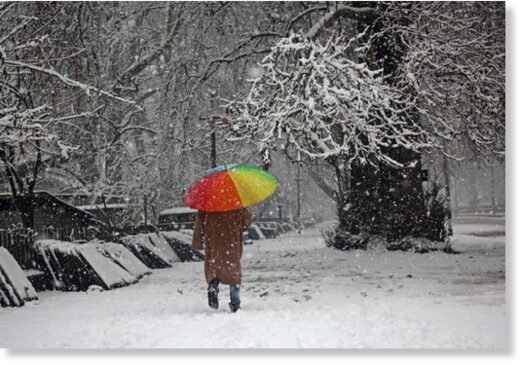 A meadow resort in central Kashmir received a rare summer snowfall on Sunday as the region recorded cold weather conditions.
The snowfall was received in central Kashmir's Sonamarg resort as well as nearby Minimarg.
The videos of the snowfall in Sonamarg, and Minimarg near Drass, were tweeted by Faizan Arif, an independent weather forecaster who has become prominent for making accurate forecasts.
Snowfall in Kashmir is usually received during December to February - the core winter months.
However, the snowfall in the last half of May is rare in the region.
Kashmir has witnessed a dip in temperature as rains with thunderstorms and hailstones were recorded during this month.
---
Dawn
Mon, 24 May 2021 11:16 UTC
Heavy snowfall in the scenic Kaghan valley on Sunday turned the weather extremely cold. It started snowing at noon and continued intermittently throughout the day.

"While people in rest of the country are suffering the scorching heat but here we are having severe cold in this heavenly valley," Mohammad Sami, a tourist from Islamabad, told reporters in Naran.

Mr Sami said as the tourism activities were set to resume from Monday (today) the nature lovers from rest of the country would rush here to enjoy the cold weather.

He, however, asked the visitors to follow the Covid-19-induced standard operating procedures so the government was not forced to impose restrictions on their movement.


---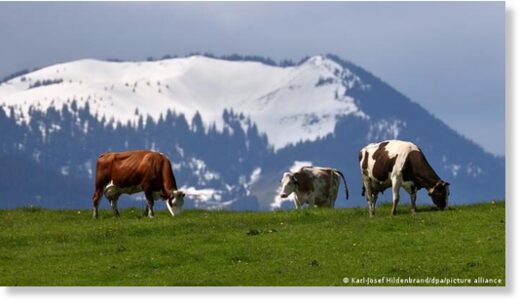 For tens of thousands of cows, their summer grazing in the Bavarian Alps will have to wait. Thick layers of snow are still blanketing their pastures — but the cold and wet aren't all bad, say experts.
Cows in southern Germany will have to stay in their stalls a little longer, as their grazing pastures in the Alps are still covered in snow, German media reported on Sunday.
At this time of year, farmers traditionally begin transporting tens of thousands of cattle up into the Alps for the summer, before driving them back down into the valleys in autumn.
What is the situation?
With pastures covered and mountain roads tricky to navigate, the traditional cattle drive will have to wait, news agency dpa reported.
Local business associations in the regions of Allgäu and Upper Bavaria said most farmers will need to wait another two weeks before releasing their cows into the mountainous pastures.
For areas that are even higher up — some farmers might have to wait until mid-June, the associations said.

Comment: A video of the snowy, wintry conditions in the nearby Austrian Alps on May 19:




---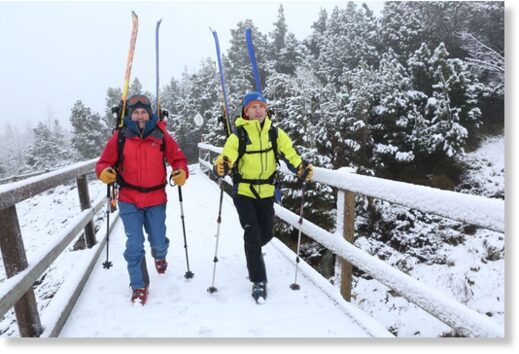 Don't look out the shorts and sun cream just yet...
With just days left until the start of June, Scotland was hit by snow.
And while we all wait for summer to finally arrive,
forecasters have warned we're on course for the coldest May in more than 40 years.
Srdjan Lulic found himself a bit exposed at the Cairngorm National Park, near Aviemore, Inverness-shire, as he headed out for a stroll with girlfriend Catherine Stewart, of Edinburgh.
Another driver had to clear a mound of snow from his windscreen, which had built up overnight.
Catherine said: "We'd planned on going for a walk to the summit of Ben Macdui but I think we will be limited to the lower slopes as there looks like there is a lot of snow on the higher ground.
---
Jason Dinant
ktnv.com
Sat, 22 May 2021 10:47 UTC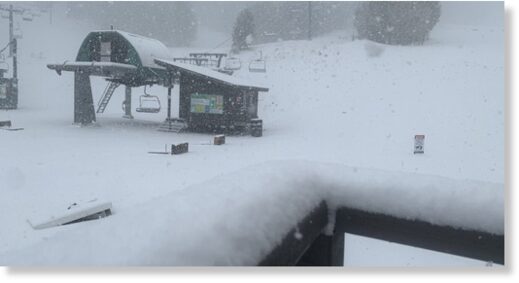 The ski and snow season at Lee Canyon on Mount Charleston is over but no one told Mother Nature.
The National Weather Service reported snowflakes falling on the mountain this morning on their Twitter feed.
---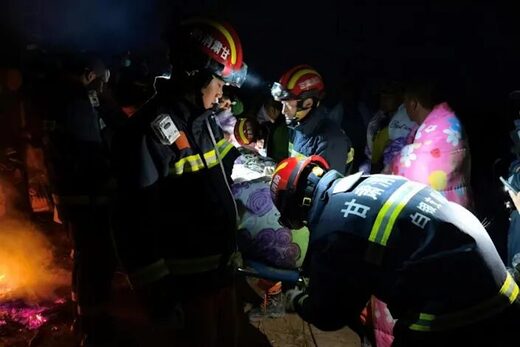 Twenty-one people were killed after hail, freezing rain and high winds hit runners taking part in a 100-kilometre cross-country mountain race in China, state media said Sunday.
One runner who had been missing was found at 9:30 am, but "had already lost their vital signs", state broadcaster CCTV reported, citing the local rescue command headquarters.
"This suggests that this incident caused 21 deaths in total," CCTV said. City officials had earlier confirmed 20 deaths and one person missing at a briefing earlier on Sunday.
Extreme weather hit a high-altitude section of the race held in the Yellow River Stone Forest near Baiyin city in northwestern Gansu province Saturday afternoon, city officials said.
Baiyin city mayor Zhang Xuchen said that at around midday a section of the ultramarathon course -- between kilometres 20 and 31 -- was "suddenly affected by disastrous weather".
"In a short period of time, hailstones and ice rain suddenly fell in the local area, and there were strong winds. The temperature sharply dropped," Zhang said.
---