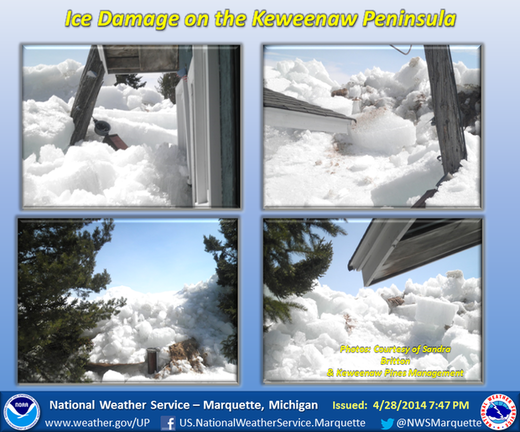 Strong winds on Lake Superior this week slowly edged an 8-foot mass of ice against outhouses and homes on the Keweenaw Peninsula, an event that meteorologists say is rare for the area.
Dave Petrovich, a meteorologist with the National Weather Service in Negaunee Township, said outbuildings and other structures along Big Traverse Bay were damaged Monday, April 28, when easterly winds stronger than 27 mph pushed the ice mass to shore.
"It was moving this mass of ice westward, not very fast mind you, but inexorably when it got to the eastern shores," Petrovich said. "The ice itself was not like the thick ice skating rink ice that you would imagine on a lake."
Petrovich said the slow and steady ice formation called ice shelving isn't unheard of - there have been other recent formations in Gladstone that moved into a city park, he said - but it is rare for Lake Superior, which was still about over 60 percent covered when the ice mass formed.
"They happen quite regularly when the conditions are like this," Petrovich said. "In recent history we've not had as much ice."