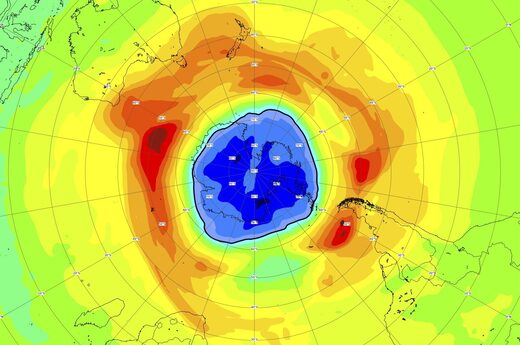 A giant
ozone
hole has opened up over Antarctica this year.
Already larger than the entire ice-covered continent, the ozone hole has surpassed the size of 75% of ozone holes measured since 1979
and is still growing. Scientists believe
climate change
might be the cause.
The Montreal Protocol
, signed in 1987, is frequently described as the world's great success story in battling human-caused destruction of the environment. The agreement banned harmful
chlorofluorocarbons and other substances known to destroy the protective ozone layer, which absorbs damaging ultraviolet UV radiation coming from
the sun
. The concentrations of the damaging substances in the atmosphere have leveled off since the protocol came into force and are slowly decreasing
, providing the foundation for the layer's gradual healing. But worsening climate change is now slowing down the recovery.