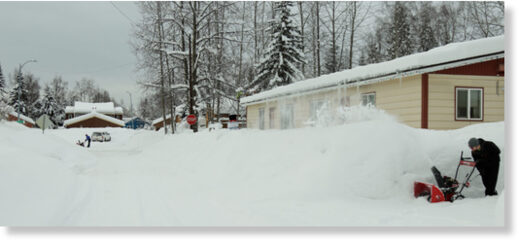 With the latest weekend storm in Anchorage,
the city's snowfall tally since the start of December now totals about 6 feet.
That's almost double what's usual in those two-and-a-half months, according to the National Weather Service
. And, it's just the amount recorded at the weather service's official measuring spot at the Ted Stevens Anchorage International Airport. Some parts of town saw more, including this weekend, said meteorologist Matthew Fazal. The West Anchorage spot got about 7 inches of snow on Sunday,
a new record.
"If you're going toward the Hillside, we've been getting reports of 16 to 18 inches of snow," Fazal said.
He said, just this month, more than 23 inches of snow have fallen in Anchorage.
"The normal is six," he said. "So that gets us 17.5 inches above normal."