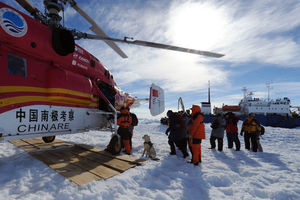 Antarctic expeditioners rescued by an Australian icebreaker have apologised for an operation that could cost taxpayers up to $2.4 million.
Fifty-two passengers rescued from a Russian ship trapped in sea ice have arrived in Hobart aboard the Australian Antarctic vessel Aurora Australis, nearly three weeks after the emergency began.
The MV Akademik Shokalskiy, chartered by the Australasian Antarctic Expedition to retrace the steps of explorer Sir Douglas Mawson, became stuck in thick sea ice on Christmas Eve.
"We're incredibly grateful to everyone who's come out to help us," leader of the privately funded expedition, Professor Chris Turney, told a media conference in Hobart.
"We are terribly sorry for any impact that it might have had on fellow colleagues whose work has been delayed.
"Any experienced Antarctic scientist knows that's an inherent risk."

Comment: And no, Chris Turney aka "the Penguin" is no experienced Antarctic scientist unless we add political scientists and spin doctors into the equation.